Bryan Albright - Old Style Pots: The '1985' Collection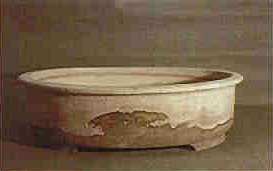 In the mid 1980's Bryan's pots looked different from the one he has been producing recently. They often had drippy glazes and parts of the body of the clay were exposed. A lot of people still like that style of post and Bryan is constantly being asked «can you make one 'like the old days'».
So by public demand Bryan is re-launching the old '85 collection'. So you can now order pots in both styles:
New or '85 style.
The New style is a much cleaner line and less busy, suited to more refined trees. Now you can choose.